Water Damage Newark
911 Restoration North New Jersey
911 Restoration North New Jersey provides water damage restoration, fire and smoke remediation, sewage cleanup, mold removal and overall disaster repair resources to the North New Jersey area.
The owners of branch Adi and Michael are dedicated to ensuring the well being of their customers, as well as making sure they are provided with affordable quality service.
We want all the homeowners in the Newark y area to confidently know that they can rely on 911 Restoration.
Our offices are opened 24/7/365, making them readily available to take care of all your home restoration needs.
They will get to your home within 45 minutes of receiving your emergency call.
All of the 911 Restoration North New Jersey crews are supplied with the most advanced home restoration technology, making them capable of tackling any restoration job. Our North New Jersey experts are put through an extensive training process, ensuring that they will know exactly what to do when faced with water damage repair, mold removal, fire and smoke remediation, sewage cleanup or disaster restoration.
They understand how important time is when it comes to these types of situations, so they keep their service vans packed and ready to go. With 35 years of experience in the home restoration industry, the water damage Newark pros have seen it all, from flooded basements and dilapidated roofs to sewage backups and mold infestations.
If you are dealing with any of these issues, call 911 Restoration North New Jersey today.

Water Damage Restoration
The professionals at 911 Restoration North New Jersey know how powerful water can be when it invades a home.
We want our customers to know that we care most about putting their minds at ease, and we will take any measures necessary to ensure that they are comfortable and confident in our services.
We know that we can get your home looking beautiful again, all you need to do is trust us to get the job done.
Being both capable and honest is one of our main priorities, and we look forward to proving our abilities to each and every customer.
Our water damage Newark removal agents understand that water damage affects your possessions, as well as the foundation of the home itself. We want our customers to know that we will do everything they can to preserve their personal items, taking special care when handling valuables and antiques. We are licensed, bonded and insured in order to protect everyone involved in the restoration process.
The restoration Newark crew has seen a lot, so trust in our knowledge to get you through to the other side. Please, call us so we can get the water damage out, and get your family back in.
Sewage Backup Cleanup

When it comes to sewage cleanup, the staff at 911 Restoration North New Jersey understands how to get the job done right the first time around. Their IICRC certification further helps our crews to clear the home of all toxic material, leaving the home looking pristine.
We do not want to make you live with a sewage backup issues any longer than you have to, so contact our sewage cleanup agents any time, day or night.
Fire and Smoke Restoration
After surviving a home fire, the property is left filled with soot, ash, smoke stains and water damage. The longer you let these substances sit in the home, the more damage they cause. This extensive fire and smoke damage requires immediate attention.
The techs at 911 Restoration North New Jersey are stocked with all the equipment needed to remediate both fire and water damage. With our crews on the job, your property will start looking like your home again in no time.
Disaster Restoration
Your safety is the most important thing in any home disaster restoration situation. Calling 911 Restoration North New Jersey will put your mind at ease.
When it comes to knowing how to undergo disaster remediation, no one knows it better than us. The difference in the details that we give every job, is how we guarantee you as long lasting and affordable solution. Let us deal with all the hard stuff, that way you can focus on family during such a difficult time.
Call 911 Restoration North New Jersey if you find yourself in need of home restoration service. We are looking forward to giving you a fresh start.
Mold Remediation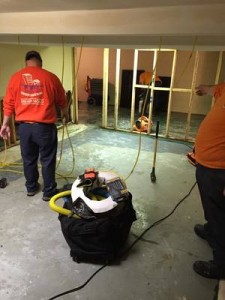 When people think of mold, most of the time we dwell on how ugly it makes the home look. Although it is true that the fuzzy, splotches of fungus growing on the home's surfaces are not aesthetically pleasing, it is also true that these mold growths may be damaging to your health.
It is important to clear mold out before it gets too wide spread, since living with it has the possibility of causing health issues such as headaches, wheezing, itchy eyes and other symptoms.
Do not live with mold. Let the experts at 911 Restoration North New Jersey give you a free visual mold inspection.
Properly identify and remediate the contaminated areas means that our decontamination job will be effective. Our specialists have all the gear necessary to remove spores and fungus efficiently.
Pick up the phone and give us a ring! Peace of mind is just on the other side.