Fire and Smoke Damage Restoration in North New Jersey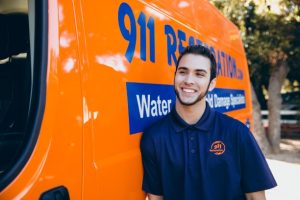 Few experiences are as heartbreaking as seeing your beloved home or business damaged by flames or a puff back. If you're like many property owners, you may believe your property's best days are now in the past. The truth is, a full recovery from fire and smoke damage is possible. In fact, with 911 Restoration of North New Jersey, a full recovery is inevitable.
We provide full-service fire damage restoration and smoke removal in Jersey City, Hoboken, Newark, and beyond. Our fire cleanup technicians take care of everything, including soot and ash removal, odor removal, and structural repairs. In fact, we're a fire and water restoration Newark company, so you can even count on our crew to repair damages left by the firehose. Call us at 862-801-3104 and allow us to provide you with a free visual inspection.

At 911 Restoration, we believe in providing our neighbors with the highest standard of service. Our staff is fully certified and trained. We're licensed, ensured, and bonded, and the company is locally owned and operated so you know you're working with neighbors. As a local branch of a nationally respected company, we have exceptional resources to ensure exceptional service.
Our high standards show through not only in the quality of our fire restoration service but also in the attitudes of our technicians. We treat you the way we'd want to be treated in the midst of a disaster. We listen carefully to your needs and anticipate your concerns. We communicate clearly and exercise transparent business practices. Our fire cleanup crew sets clear expectations with a free fire damage assessment and free insurance consultation. 
As you look at the fire and smoke damage that has destroyed your property, you may not be able to imagine the light at the end of the tunnel. Don't worry. We see it, and we'll get you there. Call 911 Restoration New Jersey today at 862-801-3104.
A Fresh Start After Fire and Smoke Damage in Jersey City Area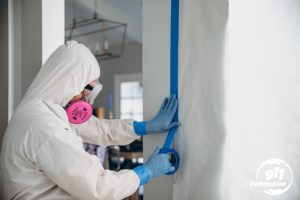 When you need fire damage restoration in Jersey City or the surrounding area, there's only one call you need to make… 
…as long as you make that call to 911 Restoration.
Our fire cleanup experts take care of everything necessary to restore your home or business to its former glory. As soon as they arrive on the scene, they provide a free visual inspection for property owners. They explain their strategy for fire or puff back cleanup. Then, they check the area for any unharmed items at risk of damage during fire damage restoration. The cleanup crew packs out and stores those belongings for safety.
Their next steps depend on the unique needs of your situation. The fire cleanup technicians may use sodablasting for soot and smoke removal. If any odor-causing particles are trapped in porous services, the crew uses sealing techniques to eliminate that stench for good. They clean every surface on your property, including dishes and furniture.
If your property has been flooded by the firehose, they extract the water, dry the area, and conduct a mold inspection. Finally, smoke removal workers test for structural damage. Fire and smoke damage takes many forms, but no matter what the issue is, our crew can handle it. They repair, replace, and restore every destroyed structure, leaving you with a property as new as the day you moved in.
If you need fire damage restoration or puff back cleanup in Jersey City, Elizabeth, or a neighboring community, choose the contractor who gives you a Fresh Start. Choose 911 Restoration of North New Jersey, call us at 862-801-3104.
Free Insurance Consultation for Fire and Puff Back Cleanup
Making sense of your insurance coverage is complicated enough when everything is going well. When you need fire or puff back cleanup, all that small print might be more than your over-stressed mind is prepared to process.
That's why we provide a free insurance consultation. A fire and smoke removal expert sits down with you to review your policy. They explain your insurance in clear terms, so you know which services are included in your fire damage restoration coverage. From smoke removal to drywall repair to mold removal Bloomfield, you know which expenses are the responsibility of your provider.
Then, we assist with inventory and loss itemization to ensure you get every benefit to which you are entitled. A staff member files a claim for you and we bill your provider directly so you don't have to give it a second thought. We also work with all providers, so we can serve every member of our community with the best fire cleanup and smoke damage repair.
We'd like you to consider 911 Restoration your fire information center… even beyond insurance information. Fires and puff backs create a flood of questions for all property owners, and we invite you to bring all those questions to us. Big or small, the size of the question doesn't matter. What matters is that we're able to provide you with clarity in the midst of a disaster.
For genuine relief and a Fresh Start, call 911 Restoration of North New Jersey today at 862-801-3104.