Water Damage West New York
911 Restoration North New Jersey will work to protect your home through our water damage repair and restoration services. With our help we can ensure that your home gets back to being safe, comfortable, and beautiful. Our water damage West New York experts are always ready to offer immediate help whenever severe weather causes damages or whenever plumbing problems start causing leaks within your home.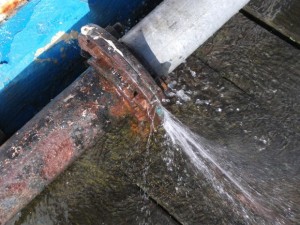 We have over 35 years of experience in handling various water-related concerns such as:
Clogged gutters and downspouts
Flooding and storm damage
Ruptured or leaking hoses on water-based appliances
Roof damage and ceiling leaks
Fire sprinkler malfunctions
Whenever water damage of any kind occurs within your home and you need help right away, 911 Restoration will be there within 45 minutes of your call. Our lighting fast response will allow us to mitigate any further damage to your home. We will be working right away by providing a free assessment of your property. This will help us better recommend solutions at the most affordable price.
Even if the damage occurs in the dead of night, 911 Restoration will be available 24/7 to provide on the day service that will give your home a fresh start!
Who You Can Turn To When Sewage Backups Strike
A sewage backup is a major emergency that needs to be taken care of right away. Toilet overflows can cause sewage to flood your home which can cause severe damage to wood and textiles. Sewage is also filled with all sorts of biological contaminants that can spread disease. Fortunately, water damage West New York pros from 911 Restoration can take on this problem for you.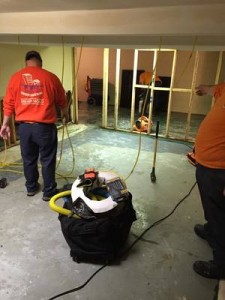 A sewage backup occurs whenever there is excess pressure buildup in the city's sewer system. When that pressure reaches critical levels, it can cause sewage to rise up into your home through a toilet.
Our licensed, insured, and bonded professionals have all the necessary training and equipment to handle these situations easily and safely. Our water damage West New York experts wear protective hazmat suits to prevent the spread of any disease. To completely cleanse the affected area, we will be using industrial strength cleaning solutions that will kill bacteria without causing any further damage to your home.
We will be using our advanced drying equipment to extract sewage water and remove moisture. Once the area has been cleared, our IICRC certified team will repair damage to your plumbing, remove mold growth, and refurbish water damaged sections of your home.
Water Damage Restorations You Can Always Count On
911 Restoration North New Jersey provides only the highest quality of water damage repair and restoration. We will be working with only your absolute satisfaction in mind and we will make sure that roof leaks, flooding, sewage spills, and pipe bursts are professionally taken care of.
Whenever you're in need of a fresh start after a water emergency, make sure that you give 911 Restoration North New Jersey a call right away!