Water Damage Fort Lee
When you need fast and efficient flood cleanup, you can count on the water damage Fort Lee crew at 911 Restoration North New Jersey to fix up your home in no time.
With so many years of experience, we know how important it is to arrive quickly to all disasters involving moisture, which is why we are available 24/7/365. Call us at 862-801-3104 and allow us to provide you with a free visual inspection.

We are licensed, bonded and insured to remediate the following causes of water damage:
Home Flooding

Pipe Burst

Roof and Ceiling Leak

Washing Machine Leakage

Water Heater Explosions

Fire Sprinkler Damage

Main Water Line Leaks

Ruptured Hoses

Toilet Overflow

Leaky Shower Pan

Ice Machine Malfunction Leak
Even if you need us in the middle of the night, our water damage Fort Lee unit will be there, and will arrive within 45 minutes of receiving your emergency call.
Call our IICRC certified water damage Fort Lee techs the moment you need assistance mitigating any form of water damage, and we will get the process started that day with a free home inspection.
When It Rains On Your Parade We Will Be There To Help
Unlike other companies, our water damage Fort Lee experts will always be there to help you, even if it seems like the most inconvenient time. We don't mind if it is the middle of the night or a holiday weekend, we are ready for anything, at any time.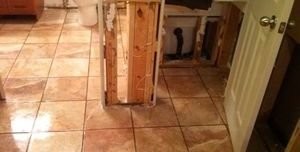 When we are called to a job we always bring our top of the line gear, because we want to be ready to get to work right away. This includes sump pumps, vapor barriers, air purifiers, dehumidifiers and air movers, all equipment that helps us get your home dry quickly.
Our water damage Fort Lee professionals also focus on mold removal when water damage is involved. Where there is moisture, there is usually mold, so we provide free visual mold inspections to check to see if the substance has had time to grow.
By implementing these comprehensive services we hope to make you feel like we have got you covered on all ends, because your satisfaction is our ultimate goal.
Call our water damage Fort Lee team the moment you notice any level of invasive water in your household, and we will get you quickly despite rain, sleet, snow or time. Call us at 862-801-3104 and see how we can help.

The Customer Is King Of Every Water Damage Situation
Like we mentioned before, customer satisfaction is always on the forefront of our minds, and we hope to prove that to with the thorough work we do on your home.

As soon as we arrive on the scene our water damage Fort Lee staff makes sure to take over all responsibility of the restoration of your household. We will address everything, including the financial aspect of the job.
It can be confusing to understand exactly what your policy offers in terms of coverage, so we take the time to go over your plan with you, even filing your claim for you if you want us to.
We want to make sure you keep your out of pocket expenses low, so even if your insurance does not provide you with full coverage, you can depend on us to always offer affordable prices on all of our services.
Call our water damage Fort Lee technicians at 911 Restoration of North New Jersey today and we will go the extra mile to get you on the road to a fresh start. Call us at 862-801-3104