Water Damage Hackensack
Just when it may seem like the situation may be too much to handle, our water damage Hackensack technicians at 911 Restoration North New Jersey will be there to rescue you from the flood you find yourself in.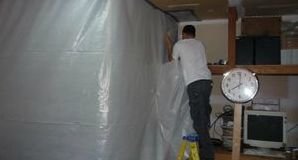 We make it our duty to help you the moment your home becomes impacted by water damage, so in order to do this we have service agents available 24/7/365 to answer your calls.
Once we get the details of your situation we will send our water damage Hackensack agents to your home within 45 minutes.
A prompt response time is incredibly important when it comes to dealing with water, because if the moisture sits long enough on surfaces it can cause rot, rust, mold growth and other potentially permanent issues.
By providing you with same day services we can get your home back on track quickly, which will allow your daily life to start running smoothly again.
Call our water damage Hackensack specialists today and we will get this process started by conducting a free home inspection as soon as we arrive.
Don't Let Water Damage Turn Into A Mold Infestation
Dealing with a pipe burst or a ruptured hose is bad enough on its own, let along if that water damage ends up causing mold and fungus to grow rampantly throughout your living space.
Fortunately, our water damage Hackensack pros have many years of experience mitigating all types of mold situations and are trained in providing all types of fungal remediation services, such as:
Water damage restoration

Moisture extraction

Thorough drying techniques

Sanitization

Spore removal

Drywall replacement

Vapor Barriers

Air filters and purifiers

Mold testing

Cleanup services

Vacuuming
If you wait too long and mold does begin to grow then you might begin to experience signs that it is affecting your health. These symptoms may include coughing, sneezing, headaches, wheezing, itchy eyes, skin rashes and other respiratory issues.
Call our water damage Hackensack crew today and we will begin restoring your damage right away to keep your family safe and sound.
We Make Water Damage Restoration Affordable
It may seem overwhelming in the moment of the water emergency to try to figure out the financial side of the situation, but with our water damage Hackensack unit there, we will be able to answer any questions you might have.

We have worked with all different types of insurance providers over the years, so we know what information they need to get you sufficient coverage.
Getting you the financial aid you need is important to us, because we want to be able to provide you with the home restoration you need.
In order to ensure that you can always afford our help, we consistently provide you with affordable flood and leak mitigation services.
Along with cost effective prices, we also offer around the clock customer service, so call our water damage Hackensack operation at 911 Restoration of North New Jersey literally any time and we will make sure you get a fresh start.