Water Damage Irvington
When homeowners discover that their pipes are leaking and the water is flooding their home, they can call the water damage Irvington specialists at 911 Restoration of North New Jersey, and crews will arrive within 45 minutes, ready to get to work.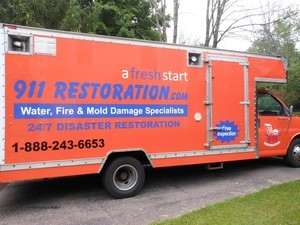 We keep our offices open around the clock, 24/7/365, because we always want homeowners to be able to call us when they need help, no matter how early or late their emergency has taken place.
Our water damage Irvington leak removal experts know exactly how to clean up your home in a timely manner in order to prevent permanent damage from occurring.
We make sure all of our water damage Irvington repair workers are thoroughly trained to remediate all causes of water damage, including:
Washing machine overflow

Ruptured hoses

Flooding

Leaky shower pan

Ice machine Malfunction

Burst Pipes

Roof leaks

Sewage backups

Appliance malfunction

Water heater explosions
Call our IICRC certified  water damage Irvington restoration aids today and we will give you a free home inspection.
Your Water Heater May Cause Water Damage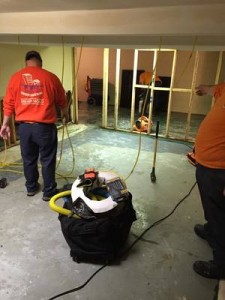 A water heater leak may not immediately seem like a major problem, but it can quickly escalate. Even if just a minimal amount of water is seeping out, it will cause damage to your floors, ceiling and walls.
Most of the time a leak with your water heater means there is a bigger problem at hand. In the event that you experience a complete water heater failure, you may be faced with a major flood that could damage your personal property and the structure of the home.
When your water heater begins leaking it can cause some health risks. Damp, wet areas can sprout mold spores and grow mildew, which can cause allergic symptoms and breathing issues in some people.
Our water damage Irvington moisture cleanup agents know that inhaling certain mold spores can be toxic and may lead to more serious health issues.
There is no way to just wait out a water heater leak and hope that it will go away with time, so call the Irvington leak repair agents today to quickly fix the problem.
Our Water Damage Staff Always Keeps Their Customers Their #1 Priority
Helping homeowners with the entire water damage remediation process is what our Irvington staff lives for.
We want to make you feel as comfortable with the home restoration procedures as possible, including helping you file your insurance claim .
With all of our experience in the field, our  water damage Irvington extraction pros know exactly what information to submit to your provider in order to get you the coverage you deserve.
We are licensed, bonded and insured to help you in any way you need, from patching up a water heater leak to repainting your entire living room.
Call our water Irvington disaster repair technicians today and we will give you the fresh start you need.