Flood or Storm Safety Checklist for Homes – When to Call Water Damage Restoration Companies?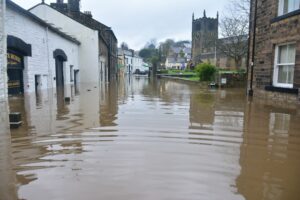 From 1998 to 2017, floods affected more than 2 billion people worldwide. Floods can cause health and safety risks, property damage, and economic loss. From electrical damage to sanitary hazards and landslides, there's so much that a flood and storm can do to your house.
One more danger of water loss is mold growth, which takes only 24 to 48 hours to grow in the areas of your house that have moisture and are probably dark. With unpredictable weather, it is essential to keep a level head and prepare a flood or storm safety checklist for homes to ensure the safety of your loved ones.
Here's what you need to do during and after the flood:
During the Flood
Try to Calm Down
It might seem like a lot to do, but the first thing you need to do is try to calm down and accept what's happening around you. Floods and storms can be really scary and cause serious damage to the home.
Seeing everything you have built getting damaged can be really stressful. However, keep in mind that you might have to take quick safety decisions, and you can't do it when you are not in the right state of might.
Pack an Emergency Kit
Your flood or storm safety checklist for homes should carry an emergency kit.
It's a good idea to have an emergency kit lying around the house, even when your home is not prone to flooding.
The few items that you should include in the emergency kit are:
Water
Medicines
Flashlight and batteries
Cellphone and charger
Cash
Important documents
Personal hygiene items
N95 masks
First aid kit
Keep your emergency kit in a place that is easy to find. You have to keep the emergency kit away from heat and direct sunlight. While packing an emergency kit, make sure you have at least three days worth of supplies.
Move to a Higher Ground
The basement is the first area of the home to get filled with water. Even if there's a possibility of a flash flood, move immediately to the upper portion of your house without waiting for any instructions. Make sure you also move the valuables stored in the basement to higher ground.
Flooding in basements is extremely common and can occur at any time. Apart from natural disasters, the most common reasons behind flooding basements is seepage through the walls, sanitary/storm sewage backup, and surface water sources.
Evacuate the Premises
Even a little rain can be a big deal inside your home. Keep in mind that even a few inches of water can be really damaging for your house. It's best to have an evacuation plan planned ahead of time.
Your evacuation plan should involve the upper portion of the house because they are less likely to get flooded. Make sure you also have your emergency kit stored in a safe and easy to reachable place. You have to be extra cautious if you are evacuating at night.
For a safe evacuation, make sure you pay close attention to the evacuation orders. One thing to keep in mind is never to walk, swim, or drive through flooded waters. Before evacuating, bring your valuables to the upper portion of the house and disconnect electrical appliances.
After the Flood or the Storm
Call Your Flood Insurance Company
The first call you to make after flooding in your house is to the flood insurance company. The insurance will grant money to pay for a temporary location, repairs of the house, and property loss.
Removed Pooled Water and Damaged Materials
If you don't want your loved ones and pets to fall sick, immediately remove the pool water after a flood. Also, make sure to remove the damaged materials from the house to prevent further damages.
Stay Away from the Damaged Areas of the House
We understand that you would want to move back to your house as quickly as possible. However, it's best that you stay away from your property unless police, relief organization, or home restoration companies request your assistance.
Look for the Signs of Mold Contamination
Molds need moisture and oxygen to grow. The ultraviolet rays from the sun can kill molds. Therefore, you will mostly find them in darker areas of your house. After structural damage, mold contamination is the biggest problem you will have to deal with. To ensure that your house stays safe from mold, you need to keep your house dry.
First, the home remediation experts run a thorough mold inspection. If they find traces of mold in your house, they will begin the mold remediation process, which can take anywhere between 1 to 5 days.
Call a Water Damage Restoration Company
Home restoration companies offer extensive water damage restoration services that involve cleaning and drying the property and moving back the restored items. Water damage restoration brings your home back to normal after a flood or storm that causes structural damage to your house.
Home restoration experts give your house a thorough cleaning after a flood and ensure that you move back to your house as quickly as possible. It takes roughly 72 hours to clean and dry a single room, followed by one to two weeks for the actual water damage repair.
Looking for Reliable Home Restoration Experts in North New Jersey?
If you are looking for an experienced and reliable water damage restoration company, look no other than 911 Restoration of North New Jersey. The home restoration experts have all the cleaning and drying equipment they need to restore your house after a flood or storm.
They are one of the home restoration companies that work to restore your home to a better condition before the flood. The company uses industrial blowers and dryers to extract and remove moisture from your house.
If you want to have a certified water damage restoration company, you will be happy to know that 911 Restoration of North New Jersey is certified by the Environmental Protection Agency (EPA), Environmental Assessment Association (EAA), Cleaning and Restoration Association (CRA), and the Institute of Inspection Cleaning and Restoration Certification (IICRC).