Practicing Stove Oven Safety – Preventing Fire Damage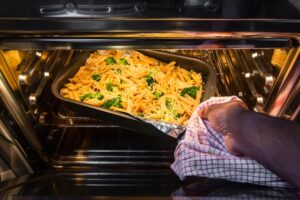 The oven is one of the most important appliances of the kitchen if you love to cook and bake you know what I mean. You can bake various food items ranging from savory to dessert options. However, they can be equally dangerous and be hazardous to your home and property. If they are not handled with care, the oven can cause fires and other injuries such as burns.
In case of emergency or fire damage, call 911Restoration, to restore your property. They have professional services available 24/7 all year round. However, it is best to prevent such damage. This article would discuss a few safety precautions to take when using an oven to ensure the safety of your family and property.
Oven Safety Tips
1.     Use The Right Cookware
Make sure you check the dishes or pans you are about to bake in; they need to be specifically intended for oven use. Some cookware may melt such as plastic bowls or dishes and others made of weak glass may burst in the oven causing harm. The best dishes to use are pyrex or other glassware.
Other than that, some metal pans may damage the oven or cause food to cook unevenly. Also, keep in mind to never operate the oven when empty or leave it heated for long hours.
2.     Follow The Manufacturer's Instructions
If you've bought a new oven, make sure to read the manual carefully, especially the safety and precautions part. This would ensure there aren't any accidents while using and heating the oven. Also, make sure a professional install the oven and it is perfectly installed before you use it.
3.     Cook and Bake with Care
It is essential to follow the given cooking time when baking something in the oven. Over baking or heating can cause fire and smoke damage. if something similar happens, make sure to immediately turn off the oven and use kitchen mittens to take out the pan as it may cause burns and injuries. The best way to avoid this is to set an alarm and monitor the baking time.
4.     Clean The Oven Regularly
Ovens can get dirty at the end of the day, especially if it's the holiday season and you've been baking for parties all over the weekend. If that's the case it is essential to clean the oven regularly and use the right cleaning agents.
Using flammable products to clean can cause fire once you heat the oven again and result in injuries. Also, clean any spills immediately after they occur. Don't let them accumulate.
5.     Don't Use the Oven If It Has Malfunctioned
If you see there is some problem with the oven or if it has malfunctioned, it is not safe to bake anything in it. Some problems may too difficult to fix on your own and that is why it is crucial to call a professional to fix the problem. Some major problems include gas leaks, oven overheating, and oven being too noisy or cutting out after operating.
6.     Keep Loose Items Away
It is not safe to keep kitchen towels or any form of cloth near the stovetop or oven. These are flammable and can easily catch fire and cause fire damage in the kitchen. Keep the area around the oven clean and all flammable items away.
7.     Use Child and Pet Safety Products
If you have young children playing around the house or even pets then make sure they are kept out of the kitchen, especially when the oven is heated and you're baking something. You can also use baby gates to keep children and pets out.
There are various safety items and locks available that can prevent children from turning on the oven or stovetop themselves. Locking knob covers and strap locks for oven doors are available.
If your child wants to bake something, make sure they know not to touch hot items and ask for your help when taking and putting trays into the oven.
8.     Keep a Fire Extinguisher Nearby
Make sure you always have a fire extinguisher close and keep it in the kitchen to use in case of emergency. Putting water on a grease fire would only further spread the fire. Instead, cover the fire with a lid or use a fire extinguisher.
9.     Protect Your Home
Install fire alarms and smoke detectors in your kitchen and other areas of the home. If there is a fire it would immediately activate and call 911. These systems would keep your home safe and protect your family from injuries and fire.
Kitchen fires are fairly common and in case of accident or fire damage, know that a restoration company in North New Jersey, 911Restoration would be there to help you to restore your property for you. Contact us at (862) 801-3104  in case of a kitchen accident. We will help you fix it!